The most recent events can be found below.  Older events can be found at the Event Archives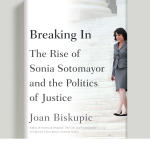 "Breaking In: The Rise of Sonia Sotomayor and the Politics of Justice"
Joan Biskupic, Legal Affairs Editor, Reuters
Date: Wednesday, 9/24
Time: 12:00pm-­‐12:50pm
Place: Gray Ceremonial Courtroom – Room 020, Dineen Hall, Syracuse University College of Law
It was little surprise in 2009 that President Barack Obama nominated a Hispanic judge to...
Read More »
---
A panel discussion with four Circuit Court Judges about the state of judicial independence and judicial legitimacy in the current age of political polarization and partisan gridlock.

Participants:Elements of Law course page.
...
Read More »
---
Wednesday, April 16, 2014
11:45AM – 12:50PM
Jeffrey Gonda
IJPM Faculty Fellow
Assistant Professor History, Maxwell School

Time: 12:00pm to 1:00pm
Date: Monday, February 24, 2014
Location: Heritage Alumni Lounge, College of Law

Lunch will be served.
Please RSVP to...Read More »
---
American Association of Law Schools Annual Meeting
Friday, January 3, 2014, 1:30p.m-3:15 p.m.
Hilton New York Midtown
Fifty years ago, when the U.S. Supreme Court decided the landmark case of New York Times v. Sullivan, it signaled what many now see as a high-water mark in the protection of and appreciation...Read More »
---
"Massive Online Leaks: Prosecuting and Defending Traffickers of
National Security Secrets"
Rod Smolla
Date: Nov. 21, 2013
Time: 12:00pm-1:00pm
Place: Syracuse University College of Law, Room 104.
Rod Smolla is a visiting professor at Duke Law, former President of Furman University in Greenville, SC, and former Dean and Roy L. Steinheimer Professor...Read More »
---
Older Entries »