The most recent events can be found below.  Older events can be found at the Event Archives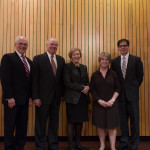 The Second Circuit Judicial Council Committee on
History, Commemorative Events and Civic Education
announces the Hands Lecture:
"The Rule of Law is Dead! Long Live the Rule of Law!
Conflicting Public Perceptions of the Courts"
Keith J. Bybee
College of Law and Maxwell School of Syracuse University
Paul E. and Hon. Joanne...Read More »
---
Working with law and communications scholars from Bar Ilan University and the College of Management School of Law, IJPM has organized a workshop ("Law in the Age of Media Logic") to be held on June 27-28, 2013 at the International Institute for the Sociology of Law in Oñati, Spain.  The workshop will...
Read More »
---
The Peter and Sharon Murphy Kissel Fund for the Study of Civil Liberties has been established at the Maxwell School to advance the "public understanding of civil rights and liberties through academic study and knowledge, student learning, and public discourse."  Working with Political Science Professor Tom Keck, IJPM Director Keith...Read More »
---
Working with College of Law Dean Hannah Arterian, IJPM Director Keith Bybee organizes the 1L Convocation Lecture Series.   Five lectures are held each year and the entire 1L class attends each one.  The final two lectures of the 2012-13 year are:  "Law, Lawyering and Citizenship: Developing Excellent Lawyers and Even...Read More »
---
January 23, 2013 – April 17, 2013
COLLEGE OF LAW, ROOM 204
The American judicial system today operates in a complex environment of legal principle, political pressure, and media coverage.  The separate elements of this complex environment are typically studied by different groups of individuals working from different perspectives.   Law faculty...Read More »
---
IJPM Director Keith Bybee is part of the three-person faculty team that organizes the Tanner Lectures.  Run through the Campbell Public Affairs Institute and endowed by Dr. W. Lynn Tanner, the lectures seek to expand horizons and spark new conversations about the problems and opportunities we collectively face...Read More »
---
As part of IJPM's Faculty Fellow Lecture Series, Ian Gallacher will present, "Magic Language: The Testimonial Oath in the Twenty-First Century." Professor Gallacher is the director of Legal Communication and Research a the College of Law.
Date: October 25, 2012
Time: 11:45 – 1:00
Location: Heritage Lounge, College of Law
...
Read More »
---
Older Entries »