The most recent events can be found below.  Older events can be found at the Event Archives
"Squaring the Right of Publicity with the First Amendment"
Paul M. Smith, Partner, Jenner & Block
Wednesday, January 28, 4:00 p.m.
Syracuse University College of Law
Dineen Hall, Sonkin Seminar Room 342
Mr. Smith has had an active Supreme Court practice for three decades, including oral arguments in 15 cases involving matters ranging from free...Read More »
---
For the seventh year, IJPM is sponsoring the interdisciplinary course Law, Politics, and the Media.  Course information and syllabus can be found here.
...
Read More »
---
Law, Politics, and the Media . . . and pizza!
The American judicial system today operates in a complex environment of legal principle, political pressure and media coverage. LAW 839/PSC 700/NEW 500: Law, Politics and the Media introduces students to the court system and its environment as a single, integrated subject...Read More »
---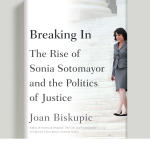 "Breaking In: The Rise of Sonia Sotomayor and the Politics of Justice"
Joan Biskupic, Legal Affairs Editor, Reuters
Date: Wednesday, 9/24
Time: 12:00pm-­‐12:50pm
Place: Gray Ceremonial Courtroom – Room 020, Dineen Hall, Syracuse University College of Law
It was little surprise in 2009 that President Barack Obama nominated a Hispanic judge to...
Read More »
---
A panel discussion with four Circuit Court Judges about the state of judicial independence and judicial legitimacy in the current age of political polarization and partisan gridlock.

Participants:Elements of Law course page.
...
Read More »
---
Older Entries »